Purify your entire home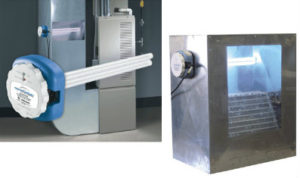 LETS CONNECT
Swordfish UVC Air Treatment System
The energy efficient, CSA-approved, Swordfish UVC Air Treatment System offers a safe way to sanitize and purify the indoor air in your entire home.
A CASATI technician can mount the system to the duct work of your existing warm air furnace to purify passing air, or install it above the air conditioning coil to kill and control the growth of any mold.
Benefits of installing a Swordfish UVC Treatment System include:
kills bacteria, dust mites, viruses, mold and fungi
helps alleviate allergy and asthma symptoms
helps prevent the spread of Colds and Flus
NO ozone is produced by the Swordfish Lamps
designed with a safety feature to prevent accidental exposure to the UVC light from the Swordfish Lamp
The Swordfish UVC Air Treatment System is especially useful in newly constructed, air-tight homes. According to the Environmental Protection Agency (EPA), air-tight homes and buildings foster the increase of indoor pollution that can rise to unhealthy levels.
Protect your whole family all year round
Call CASATI 905 – 460 – 4023 to learn more or complete and submit the Request Quote form below and a representative will be in contact with you as soon as possible to discuss your requirements.
Request Quote
CASATI Resource Articles