CASATI Home Cooling Services:
install new central air conditioners
relocate existing air conditioners
repair all brands and models of air conditioners
tune-up all brands and models of air conditioners



EMERGENCY SERVICE
CALL NOW
905 - 460 - 4023
Buy and Install a New Air Conditioner
CASATI is a qualified dealer for American Standard Heating & Air Conditioning.
Because we carry what are considered the best central air conditioners in the market today, you can rest assured that you're making the right choice to purchase and install an American Standard high-efficiency air conditioner in your home.
Unlike other brands, at CASATI we ensure that all our American Standard air conditioner installations come with a 10-year parts and labor warranty. 
We look after the entire project for you, so that you can enjoy the experience from start to finish with peace of mind. 
Call today and see why we're a leader in homeowner satisfaction and dependability or
Book a free in-home consultation
American Standard Air Conditioners
Voted the Best By Consumers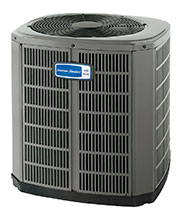 Readers of a National Product Testing and Research magazine rated American Standard Heating and Air Conditioning's air conditioners as the most reliable brand among leading manufacturers.
General Air Conditioner Sizing
We ensure the perfect fit for your home 
Below is a chart indicating the general suggested unit sizing for your central air conditioner based on the square footage of your home (not including the basement). Our service experts also consult house drawings and recommendations by builders to ensure that your air conditioner is sized right.
Despite what other companies may advise, it would not serve you best in efficiency, savings and quiet operation of your unit if your air conditioner is under-sized or grossly over-sized. 
| House Square Footage Range | Air Conditioner  Size |   |
| --- | --- | --- |
| Up to 1500 sq. ft. | 1.5 Tons |   |
| 1501 - 2000 sq. ft. | 2.0 Tons |   |
| 2001 - 2500 sq. ft | 2.5 Tons |   |
| 2501 - 3000 sq. ft | 3.0 Tons |   |
| 3001 - 3500 sq. ft | 3.5 Tons |   |
| 3501 - 4000 sq. ft. | 4.0 Tons |   |
| 4001 - 4500 sq. ft. | 4.5 Tons |   |
| 4501 - 5000 sq. ft | 5.0 Tons |   |
The CASATI Satisfaction Guarantee
We aim to satisfy and exceed your expectations ...
With CASATI, be assured that the price we quote you is the price you pay, nothing more. No hidden surprises after the fact. This is why we offer you the service of a free, no-obligation in-home consultation. Once we determine your requirements, we provide you with a detailed quote.
No pressure, no demands, because we want to make sure you are fully happy with your decision to choose CASATI to install your HVAC equipment. We strive to create a seamless experience for you so that you can get back to living in complete comfort as quickly as possible.
What clients are saying about us ...
Casati was great for us and both Kate and I would recommend his service for anyone looking to invest in a new furnace and/or A/C

Phoned several dealers to get suggestions and budget pricing. Joe Casati was the best price, and that was on the furnace Consumers Reports recommends highest... Nice and capable guys. Saved $1500. Verrrrry quiet unit.

Wonderful service from Casati from start to finish. Installation was quick and hassle-free. Technicians were very courteous and professional; they worked very clean and the whole experience was enjoyable. The prices were right for both American Standard furnace and AC. I am very happy with my purchase.